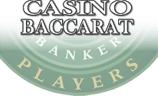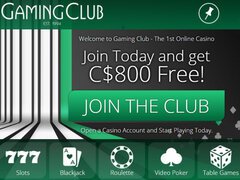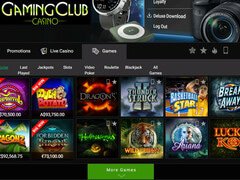 Casino Gaming Club
Bons de Bienvenue : 800$
Signup Bonus : 100%
Gaming Club Baccarat, Slots and Blackjack Explained
Baccarat gamblers who are looking for an online venue that has all of their favorite games should look no further than Gaming Club Casino. It is licensed in Gibraltar and is one of the few casinos out there that has obtained such licensure. The casino is also a member of the Interactive Gaming Council, or IGC, and it adheres to all of the regulations set forth by the group as they relate to fairness in gameplay and payouts. It has been in business since 1995 and provides players with an impressive 97.17% return rate. Canadian players are accepted for real money play and they can play Gaming Club baccarat and other games for free as well.
Baccarat and Other Gaming Options
Since the casino offers Microgaming software and game options, players can rest assured that they will have some of the best playing experiences possible. Not only are there plenty of options in the way of table games like Gaming Club baccarat, poker, roulette and even blackjack, but there are also dozens of slots. Some of these are progressive jackpot slots that can provide almost-instant payouts of hundreds of thousands of dollars in a single spin. The Mega Moolah progressive slot (one of the most well-known in the industry) is one of the casino's claims to fame.
Featured Baccarat Game - Gold Series Baccarat
As a featured game to play at this casino, the Baccarat Gold Series game introduces some great new features. This is an eight deck game and the minimum wager is 5 credits. The regular player and banker bets are still there but players also have the option of choosing side bets. These include the Tie Bet which pays 8 to 1 and the Banker and Player Pair bets which pay 11 to 1. The player and banker are both dealt cards and you must bet on which hand you think will have the highest value. This game stimulates some of the common practices in land casinos whereby players can get a peek at their cards by lifting the card at the corner by moving their cursor. Other features of this new Microgaming Baccarat Gold series game are History and Roadmap. Whilst history is not new, it does display the outcomes of the hands in sequence and the roadmap is derived from this. This give more advanced baccarat analysis. There are four roadmaps but the Big Road is what most players will look at. This helps you to track the number of same type outcomes in succession and see if there is a larger pattern.
Bonuses
The casino also offers much in the way of bonuses, and everything from the welcome bonus to the weekly promotion is lucrative and put together well. For new players, the casino offers a 100% match of up to $100 on the first deposit. Outside of this, 10 players per day win $150 worth of free spins on Harvey's Video Slot machine. There are reward points as well as a casino rewards program, so the free spins and cash don't stop with just the bonuses. The bonus system allows players to carefully track their finances each time they visit their accounts.
Gaming Options
Players are provided with plenty of customizable options during gameplay thanks to Microgaming's renowned Viper software. Players can control the music, the sound effects, the voice of the virtual dealer, and even the speed of gameplay. One of the best features that is made available by this website is the 'Autoplay' feature which allows players to choose how much to wager per spin with slots; the game will continue to play automatically while the player walks away or even visits another room in the casino.
Overall Opinion
While the bonuses that are offered by Gaming Club Casino are not quite as lucrative as those offered by some other online venues, the sheer number of bonuses that are offered as well as the structure of these bonuses makes them worthwhile. Players will find no shortage of baccarat casino games, and with excellent customer service that is available 24 hours a day, seven days per week, all player questions will be answered quickly and expertly. Finally, despite the banking option that a player chooses, the casino will likely accept it--Visa, MasterCard, bank transfer and even e-wallet service providers are all available here.