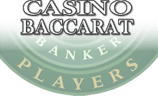 Cryptologic Offers Mini Baccarat Online
There are all kinds of people who like to play mini baccarat online primarily because it's a simple game to understand. It is enjoyed in much the same way as its "non-mini" counterpart; the only thing that is different is the number of seats shown at the virtual table. Most of the time, there can be up to 16 people at the table but in this version, there are only five.
Variety of Betting Limits
The Cryptologic version of mini baccarat online has a betting limit that starts at $1 and ends at $5000, making it a good option for low and high rollers alike. Whereas land-based casinos must make the best use of limited floor space in order to maximize their profits, the same does not need to be said for internet outlets. Here, there is no limit to the tables and therefore no need to limit the bets. Absolutely anyone can enjoy it in their spare time as long as they have access to an internet connection. The potential payouts for this title are excellent, as well, as long as the player is able to place smart wagers and avoid those with a high house edge.
How It Works
Learning to play mini baccarat online isn't really difficult since the individual users have no decisions to make other than how much and on which hand they want to wager. There are only two hands dealt and these are known as the Player and the Banker hands. Once individuals have placed their bets, each of these hands will receive two cards. If one equals a score of eight or nine, it wins instantly and no further action is needed. If neither hand totals eight or nine, then a third card may be provided according to house rules. In scoring, Jacks, Queens, Kings and Aces are worth zero, Aces are worth one, and 2s through 9s are worth the numbers on their faces.
Odds and House Edge
Individuals are able to place wagers on the Player, the Banker or a tie. Winning banker bets are subject to a rake of up to 5%, but this is still the best option in most cases since it is associated with the lowest house edge. The odds of winning when wagering on the Player hand are only slightly higher, and most professionals advise that it is best to avoid wagering on the tie since the house edge is high and the profits are relatively low at only 8 to 1. Of course, this could be a substantial payout for high rollers who like to take risks, but it is best to stick to the other two options in most cases. Overall, it is relatively easy to learn and most people are able to produce some wins over time.
Those who are interested in mini baccarat online are sure to enjoy the History feature which keeps track of every single wager placed and all of the winnings hands. This way, individuals can track patterns and adjust their styles to suit.